Breaking Brands – Learn from Albert Heijn, Bocage & Buymysell
07 Jul 2021
In this monthly update we would like to inspire you by sharing some innovative concepts which are adapting to the retailtrends: Omni Integration, Extreme Convenience, Extreme Experience and Sustainable Practices. This month, the trend Sustainable Practices will have our attention with trends from Albert Heijn, Bocage and BuyMySell. Which breaking brands will inspire you?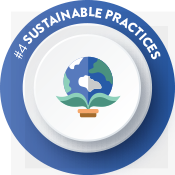 About the trend
onsumers are more conscious now than ever and are becoming a larger and more vocal segment of the population. Implementing sustainable practices is all about demonstrating social responsibility and highlighting an ethical, honest, and responsible business. It means taking responsibility by offering consumption in good conscience, by producing environmentally through the entire value chain and by having responsible products and services. Consumers are increasingly looking to align with brands and retailers that share their values. Retailers connect on a deeper level with consumers to help them feel like they are contributing to a greater purpose when shopping the brand of the retailer.
#1 Albert Heijn – The Netherlands
Albert Heijn is the biggest supermarket chain in the Netherlands and part of Ahold Delhaize. Albert Heijn has the mission to let customers eat healthier every day by setting high goals, for example, reducing the sugar and salt percentage of all products. Their 2020 campaign is targeted at kids and their families. At the checkout of the supermarket children can receive and collect hard-copy cards for a card game with a fruit and vegetable theme. But it does not stop here. Connected to this card game is a mobile app with online games and challenges. This way they can challenge their classmates or parents by cooking healthy meals and uploading a photo of it. As well as cooking challenges there are other challenges to get kids moving, such as recording short dances very similar to the popular TikTok dance trends. This new campaign shows how supermarkets can create a win-win situation by encouraging healthy diets from a very young age and cultivating loyalty to their stores. It is an innovative and cost-effective example of increasing corporate social responsibility (CSR).
#2 Bocage – France
For more than 50 years, the French manufacturer BOCAGE has been renowned for its expertise and know-how as a shoemaker. Balancing between tradition and innovation the brand has been able to adapt to the new eco-friendly trend while keeping its heritage. In 2018, the brand launched a rental service called 'L'Atelier Bocage' allowing its customers to rent a new pair of shoes every two months. The following year, Bocage created 'Comme Neuves' a reconditioned line of shoes from the rented pairs of 'l'Atelier Bocage'. Cleaned, disinfected and reshaped at Bocage's Factory in Montjean-sur-Loire, these reconditioned pairs are 'comme neuves' and are sold at -50%. 'Comme Neuves' can be seen as the harmonisation between tradition and modernity. By providing sustainable practices, the brand offers an opportunity for customers to adopt new ecofriendly habits.
#3 BuyMySell – Romania
BuyMySell is a mobile app for direct transactions of recyclable materials between consumers and collectors, a direct link between waste collectors and recycling companies. People who want to get rid of their waste and make a profit out of it can post the quantity and the material that they have on the app and then the individuals / companies can bid for it. There are two types of accounts: Buyer and Seller. The app also has a component where local producers can sell fruits and vegetables. The app encourages people to recycle by easing the process of selling recyclable materials. By having a component where local producers can sell their fruits and vegetables, it also supports the local community. It makes the process easier for the people who are already recycling and it also encourages other people to recycle by offering them the chance to make a profit out of it.