Breaking Brands - Learn from Amazon Fresh, C&A & Carturesti
19 Feb 2021
In this monthly update we would like to inspire you by sharing some innovative concepts which are adapting to the retailtrends: Omni Integration, Extreme Convenience, Extreme Experience and Sustainable Practices. Which breaking brands will inspire you? This month, the trend Omni Integration will have our attention with trends from Amazon Fresh, C&A and Carturesti.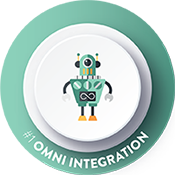 OMNI INTEGRATION: OMNICHANNEL, BRICKS AND CLICKS, REDUCED FRICTION, TECH INTEGRATION
The emergence of Covid-19 speed up the need for technology adaptions and digital innovations that allow consumers to always be connected. They can shop, return, or share products anytime and anywhere at the touch of a button. Bricks and mortar and the online channel are no longer separate entities, but complementary platforms that improve the retail experience. Customers want to be served at anytime, anywhere and through every channel. With click and collect, augmented reality assistants, endless aisle, lockers, and data-driven stores, omni experience dominates retail today.
#1 AMAZON FRESH – U.S.A. | ECOSYSTEM, FRICTIONLESS, MULTI-PURPOSE
Amazon Fresh is Amazon's first grocery concept designed from the ground-up with the ambition to deliver a truly frictionless grocery shopping experience. This store goes beyond traditional grocery: it's is a cross between a discount grocer, a traditional supermarket, a Whole Foods store and an Amazon fulfillment & service center. It also serves as a hub for all Amazon customer activities outside of grocery shopping such as package pickup and returns. 20% of the space is dedicated to Robotic picked storage and it's the first brick and mortar store to deploy voice functionality. Customers can start their journey at home with their Alexa device and continue in Amazon Fresh stores. In addition to food, the store carries a selection of general merchandise including a "Best of Amazon" wall which features a curated selection of best-sellers from Amazon.com. Additionally, Amazon Fresh debuts the "Dash Cart", which is equipped with technology that recognizes what shoppers drop inside the basket and allows them to check out without visiting a cash register.
#2 C&A HAMBURG STORE – GERMANY | TECHNOLOGY, CONVENIENCE, INDIVIDUALIZATION
The fashion company C&A has equipped its store in Hamburg with state-of-the-art technology and fundamentally revised the store design concept to transform the store to their most modern in Europe. Changing rooms are equipped with touchpads, which customers can use to call service personnel for advice or to order an article in a different size or color into the cubicle. Via screens at Omni Touchpoints, customers are able to switch to the virtual C&A shop and order sizes and colors which are not available in the store. The concept is complemented by a personalization service in the denim department, where customers can have their garments customized using laser technology. This all takes place in an eco-friendly store, as it is equipped with energy saving screens and lighting. Furthermore, the usage of water is reduced to a minimum and sustainable cotton is chosen to produce the clothing. C&A presents a convincing and successful example of omnichannel integration, which makes the customer experience more convenient and eventful, creating a true phygital store.
#3 CARTURESTI – ROMANIA | PARTNERSHIPS, MARKETPLACE, EASY ACCESS
Carturesti is one of the largest bookstores in Romania: a pioneer in new retail concepts and innovations, with values that emerged also during the pandemic, when the retailer was heavily affected by the lockdown. With all the locations closed and with an online sales channel generating only 10% of revenues, Carturesti reinvented itself and set some interesting partnerships with food retailers, launching "books' islands" in Mega Image concept stores. Carturesti also made other products available on partners' online platforms, such vivre.ro website – an online furniture retailer. By having its products on vivre.ro, the retailer can also sell other products than books. This is important for the producers, since Carturesti is one of the main distributors for a lot of small local producers and designers. Carturesti strategy is to always be where its readers are - street bookstores, shopping centers. And now, the pandemic revealed new ways to come closer to the client. No other place would have been more strategic during the pandemic than food retail chains, which were open and with a significantly increased traffic and number of customers' visits.