Breaking Brands – Learn from Camp, Seat & Decathlon
28 May 2021
In this monthly update we would like to inspire you by sharing some innovative concepts which are adapting to the retailtrends: Omni Integration, Extreme Convenience, Extreme Experience and Sustainable Practices. This month, the trend Extreme Experience will have our attention with trends from CAMP, SEAT and Decathlon. Which breaking brands will inspire you?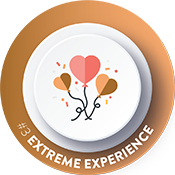 EXTREME EXPERIENCE: LINGERING, BRAND BUILDING, EVER-CHANGING, AMPLIFICATION, SOCIAL SHARING, EMOTIONAL, FLAGSHIP
Before the corona outbreak, consumers were craving physical experience and entertainment. This trend has been slowed down by Covid-19. Nonetheless, consumers have the need to interact with retailers and brands through digital engagement.Retailers and brands are pushed to offer innovative concepts that replace previous face-to-face experience with interactive online solutions. Consumers do not choose products based solely on functional value, but, rather, based on emotions that engagement and experience ensure. Intensive storytelling and strong content are paramount to creating identification and emotional ties, boosting brand loyalty.
#1 CAMP Experience Store - USA | NIMBLE, EVER-CHANGING, HANDS-ON
CAMP is a 10,000sf playground that brings summer camp indoors. It is a hands-on, immersive store that is more playground than a shop. Kids can engage in activities like gardening, arts and crafts, games, etc., plus there are goods for sale. Revenue is primarily from merchandise, with 20% coming from memberships. It also runs up to seven activities a day—like sing-alongs or yoga, and date-night drop-off services. During the COVID-19 lockdown, CAMP hosted free virtual birthday parties everyday at 5pm EST. Participants were able to invite family and friends via a virtual guest list link and with advance notice, CAMP tried to personalize the party for any kid celebrating their birthday. Upgrade options were available for private online birthday parties- a creative way to "digitize" their in store offering while social distancing. Additionally, CAMP teamed up with Walmart and a roster of celebrities to offer virtual summer camp experiences to the Walmart app. A smart solution: their collaboration with Walmart allowed them to engage with their target customer while physical locations were closed.
#2 Casa SEAT - Spain | FLAGSHIP, HUB, BRANDING
Automotive manufacturer SEAT has opened a store concept in Barcelona's most coveted street, Passeig de Gracia, called CASA SEAT – an aim to be a welcoming host to both Barcelonans and city visitors. SEAT wants to be part of the city's life, hosting exhibitions and events about mobility, sustainability, art and culture, design, innovation and creativity. Visitors can find out the latest about SEAT projects or try some selected vehicles from their brands: SEAT & SEAT MO (urban electric solutions) and CUPRA (racing cars and upscale models). There are interactive screens and displays to wow the visitor and make the experience engaging and fun. The building also hosts SEAT's CEO office and the brand's Design Lab. In order to have a real connection between the brand and the city, next to the design lab, there is a co-working area for young and innovative entrepreneurs; additionally, there is a casual restaurant as well as comfortable seating to lounge or work, which is open to everybody. Casa SEAT is an innovation hub where to explore the future of mobility, creativity and design. It is an important investment which reinforces brand positioning and a higher emotional engagement.
#3 DX – Decathlon – France | CITY STORE, CUSTOMIZATION, COMMUNITY
Decathlon, the French leader in sports equipment, is renowned for providing its customers with retail innovations. Through its new 800 sqm DX store, Decathlon breaks the codes shaping a place crossing between a store, a showroom and a lab with a series of technological innovations:
Being a member is mandatory in order to enter the store as the customer will have to scan a QR code at the entrance;
With "Decath' Go", members of the loyalty program can leave with their products without checkout thanks to RFID sensors;
Decathlon implemented a foot scanner developed by the Dutch company Safesize - not only to help verify foot size and choose accordingly the right one, but also to limit customers' returns;
Customers can save time with a body scanner to guide them finding fall season items and avoid fitting rooms;
DX has 3D printers to create prototypes with objective to increase customers' involvement in co-creation projects. In the near future, customers will even be able to customize items by themselves such as bike or scooter handles.
This customer oriented and innovative format sets the pattern for subsequent products and services.