Breaking Brands - Learn from Kroger, Lifvs and Mall Taranesc
02 Dec 2020
In this monthly update we would like to inspire you by sharing some innovative concepts which are adapting to the retailtrends: Omni Integration, Extreme Convenience, Extreme Experience and Sustainable Practices. Which breaking brands will inspire you? This month, the trend Extreme Convenience will have our attention with trends from Kroger, Lifvs and Mall Taranesc.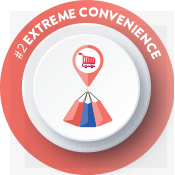 EXTREME CONVENIENCE: SEAMLESS RETAIL, TECHNOLOGY FRICTION, ELIMINATES PAIN POINTS, ON-DEMAND
The modern consumer is busy and the era of seamless and frictionless retail has arrived. Friction in the customer journey results in not-buying customers, which retailers want to remove by implementing technology, subscriptions, deliveries and pick-ups and to streamline the daily work activities.
#1 KROGER – U.S.A. | DRIVERLESS CARS, DELIVERY
Kroger rolled out the self-driving car program, where customers can order groceries online to be delivered to the home in a vehicle without a driver. The delivery service was conceived by the robotics company Nuro, founded by two former Google employees. Kroger and Nuro began working together last year for a trial run in Scottsdale, Arizona, before they started this year's expansion. Kroger has reportedly completed thousands of driverless deliveries within the Arizona market. The company aims to roll out its self-driving R1 delivery vehicles in Texas; meanwhile, it will use a Toyota Prius fleet. Enabling the purchase of groceries online to be delivered via driverless car is a great example of using technology to remove barriers to consumers and allow for a more convenient and seamless experience. It also combines new innovative technology, developed by Nuro with Kroger's existing infrastructure, to create a better grocery shopping experience for Kroger's customers.
#2 LIFVS – SWEDEN | STAFFLESS STORE, SEAMLESS EXPERIENCE
The Swedish company Lifvs Scandinavia has opened what will be the first in a chain of staffless convenience stores in Sweden. The store, located in Bålsta, near Stockholm, is open 24/7 and is completely staffless. Instead, the company creates a seamless experience, as everything from entering to paying is done via an app. Through the app, customers open the door and scan the products they need. The amount due is then automatically withdrawn from the customer's account. It is also possible for customers who do not wish to use the app to scan the products in a check-out area in the store. The concept is an innovative alternative to the traditional convenience store, and the company seeks to open stores in small communities that are remote from other opportunities to buy groceries. The idea is to offer a wide range of products within different categories in a small space for customers who need to make quick, lastminute buys. In today's fast-paced society, Livfs' concept goes hand in hand with the busy lifestyles of consumers who do not want to waste time grocery shopping.
#3 MALL TARANESC – ROMANIA | MARKETPLACE, EASY ACCESS
Mall Taranesc reinvents the path to traditional food markets, reducing the distance to one click away. The concept combines three elements defining consumer behavior: shopping center, online experience, and local food. More than 500 producers are listed on the platform and more than 5,000 clients are buying their products. The platform is structured like a traditional market, where each producer has a space based on geographical criteria, and an administrator who can be a producer, private company, cooperative, or public entity. The product range covers all tastes and passions, from food, drinks, fruits, vegetables, dairy, and honey, to cosmetics, ceramics, wood products, and jewelry. All products have a unique QR code on the label, so customers can scan it and read the description. The greatest benefit for producers is that they get a fair price for their products, since the platform shortens the chain and skips intermediaries. Also, producers are encouraged and supported to participate in national - and even international - fairs and make their name known across borders. Authenticity is the philosophy behind this concept and the bridge between rural and urban supports tradition through every small producer or craftsman.