Breaking Brands - Learn from Mago Clever, Monoprix and Box by Posti
20 Apr 2021
Breaking Brands - Learn from Mago Clever, Monoprix and Box by Posti
In this monthly update we would like to inspire you by sharing some innovative concepts which are adapting to the retailtrends: Omni Integration, Extreme Convenience, Extreme Experience and Sustainable Practices. Which breaking brands will inspire you? This month, the trend Extreme Convenience will have our attention with trends from Mago Clever, Monoprix and Box by Posti.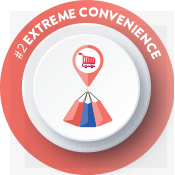 EXTREME CONVENIENCE: SEAMLESS RETAIL, TECHNOLOGY FRICTION, ELIMINATES PAIN POINTS, ON-DEMAND
The modern consumer is busy and the era of seamless and frictionless retail has arrived. Friction in the customer journey results in not-buying customers, which retailers want to remove by implementing technology, subscriptions, deliveries and pick-ups and to streamline the daily work activities.
#1 MAGO CLEVER – POLAND | STORE CHECK-OUT SYSTEM, TIME SAVING, EFFICIENCY
With the "Clever" mobile self-service checkout, Mago has developed a trolley with which the customer can carry throughout the entire retail shopping process, from product selection to self-scanning and payment. The customer activates a trolley by connecting the mobile phone to the trolley with a QR code and attaches his own shopping bag. Using the scanner on the trolley, the customer can scan the selected products, see details and the price of the products, as well as other product recommendations from the store. Even an age check for the purchase of products such as alcohol is made possible through technology. Fresh products are weighed directly in the shopping bag using a built-in scale. For the payment, the customer has the choice to either carry it out via mobile phone or via one of the self-checkouts in the store. Mago's mobile self-checkout system combines the advantages for retailers and consumers. In addition to the provided convenience for the shopper, retailers can minimize their operational costs for personnel and benefit from up- and cross-selling opportunities.
#2 MONOPRIX – FRANCE | CITY STORE, HYBRID FORMAT
Monoprix is a leading convenience store chain in France. Through its new 5,600 sqm project "Grand magasin pour tous", Monoprix aims at becoming a destination store attracting all Parisians. The goal is to give value back to the product, the store and the merchant by focusing on improving customers' experiences in store remaining a place where quality goes with great prices. In this hybrid format, Monoprix offers a selection of products and services that resonates with the consumption patterns of urban consumers: one area is dedicated to a healthy lifestyle where all yoga, healthy snacking and well-being products are exposed while another space is dedicated to food with a bakery, a caterer, a fish and meat market. Also, customers can find a 'relaxation area' where to have coffee, lunch or just relax. In the middle of the store, a public square is built to become a meeting place. Sustainability is also addressed through partnership with Selency to offer second-hand decorative items in the home department. As for digital integration, for some time now the brand has provided fast delivery and Click & Collect services and goes further in efficiency by introducing connected shopping carts (partnering with the start-up KNAP) where customers can scan their products and pay them directly on the cart shelf.
#3 BOX BY POSTI - FINLAND | MULTI-FUNCTIONAL POSTAL OFFICE, FRICTIONLESS
"Box" is a bright and modernly decorated self-service postal point, where Finnish consumers can pick up their online orders. It is operated by the Finnish postal service Posti and the purpose is to be the "perfect place" to pick up online orders. Box is not only a hassle-free pick-up spot, but it also offers other convenient services, e.g. a recycling area, a product show-space and fitting rooms. Rows of pick-up lockers makes the experience convenient and quick, and customers can easily return their orders. The consumers can try on what they bought online, right there on the location in the fitting rooms, and if they wish to make a return, they can save time by packing it up in the free packaging provided in the space and return it right away using digital kiosks. Additionally, Box offers the possibility to sit and grab a coffee, as well as an area that can be used to host company events. Each area of service is marked with a special color to make it easy to navigate the space. Further, brands have the opportunity to showcase their products in "Box", offering them a way to increase brand awareness as well as functioning as a part of the business model for Box.