Breaking Brands – Learn from Mond of Copenhagen, Nike and Miele
04 Nov 2020
In this monthly update we would like to inspire you by sharing some innovative concepts which are adapting to the retailtrends: Omni Integration, Extreme Convenience, Extreme Experience and Sustainable Practices. This month, the trend Extreme Experience will have our attention with trends from MOND of Copenhagen, Nike House of Innovation and Miele. Which breaking brands will inspire you?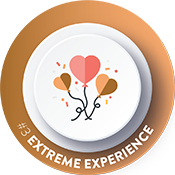 EXTREME EXPERIENCE: LINGERING, BRAND BUILDING, EVER-CHANGING, AMPLIFICATION, SOCIAL SHARING, EMOTIONAL, FLAGSHIP
Game-changing power in retail is being ignited by great experiences. The new age of flagship retail is centered around Instagrammable moments, lavish displays, large stores, and a mentality welcoming change. Shoppers desire personal experience: interaction and involvement with products, staff and brand are crucial. Consumers choose products due to functional worth, but also because of emotions. Consumers do not choose products based solely on functional value, but, rather, based on emotions that engagement and experience ensure. Intensive storytelling and strong content are paramount to creating identification and emotional ties, boosting brand loyalty. The customer needs to stick around, surroundings needs to be changing and there has to be a 'wow' feeling.
#1 MOND of Copenhagen – Denmark | CUSTOMER CENTRIC, ENGAGEMENT
MOND of Copenhagen specializes in tailor-made suits, putting the personal buying experience and unique product at the forefront of customer experience. In the concept, modern technology such as a 3D body scanner (to speed up the measurement process) is combined with traditional tailoring techniques such as understanding consumer preferences to reach the perfect fit. In the store, customers design their own suits with the guidance of well-informed staff. The customer can choose from among more than 8,000 different fabrics, primarily from Italy and England, as well as custom elements, such as inner lining. The customer's measurements are saved in a database, so that he can easily order new suits from home without having to go to the store. The online design and ordering process is fully explained to the customer when they visit the store for the first time. The unique suits are designed on-demand by MOND of Copenhagen, whereby technology is integrated to deliver this process more like an experience.
#2 Nike House of Innovation – U.S.A. | FLAGSHIP, BRAND EXPERIENCE
Nike House of Innovation is a flagship which is designed to be a dynamic store environment by combining personal and digital elements with premium products and experiences. There is a Nike Speed Shop, offering on-the-go access to products local members know and love. Consumers can shop these uniquely curated NYC favorites alongside seasonal picks, visit the Nike Sneaker Bar for easy access to Nike's biggest power franchise footwear, or reserve items via the Nike app and pick them up in the Speed Shop digital lockers. Nike NYC offers an authentic and humanitarian connection to the brand Nike; engagement is being created by using data and displays and by facilitating different functional departments. Nike House of Innovation won the this year's innovation prize in Global Retail Trends & Innovation 2020.
#3 Miele – the Netherlands | PRODUCT EXPERIENCE, PERSONALISED ADVICE
Miele opened an Experience Center in June 2019 in Amsterdam. The Experience Center offers opportunities to see products firsthand and get advice on purchases. The store tells the story of Miele's brand, which is characterized by quality, design, innovation, and sustainability. Customers can experience Miele's most innovative products from its kitchen and laundry, as well as the home appliances offer. Miele aims to serve customers in all parts of the customer journey, from renovating your kitchen to offering inspiration in general. Through cooking and product demonstrations, customers can experience the newest technology. Due to the fact that the staff is trained to give purely personalised recommendations, Miele greatly adapts to human interaction and creating an emotional connection that way. With the Experience Center, Miele is innovative regarding accurate product explanation, product experience and personalised advice.