Breaking Brands - Omni Integration
03 Apr 2020
In this monthly update we would like to inspire you by sharing some innovative concepts which are adapting to the retailtrends: Omni Integration, Extreme Convenience, Extreme Experience and Sustainable Practices. Which breaking brands will inspire you? This month, the trend Omni Integration will have our attention with trends from Bershka, Crisp and Carvana.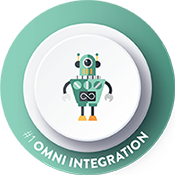 OMNI INTEGRATION: OMNI CHANNEL, BRICKS AND CLICKS, REDUCED FRICTION, TECH INTEGRATION
The rapid changes in the retail domain is being driven by new technologies and digital innovations which enables customers to always be connected. Besides, the physical stores and online channels will complement each other and the omni-experience will be centric.
#1 Bershka Experience – Italy | CONVENIENCE, INTERACTION, TECH, CUSTOMER-CENTRIC
The Spanish fashion retailer Bershka released a new concept based on shopping experience in December 2018. At the Bershka Experience customers can use an app to digitally search through the entire shop and scan products they think are interesting. When a customer has finished this process, they can either fit the clothes or pay right away. The shop assistants will bring the products to the fitting room or the cash desk and the customer receives a message in the app about this. Bershka is an integrated retailer so all omnichannel services are available in this store (e.g., click and collect, online order from the store), as well as more digital services, such as smart fitting rooms, with a tablet to call for help, ask for another size, or see related products. Also, there are smart mirrors in the fitting rooms; when a customer brings an item close to the mirror, it shows details of the product, complete outfits, and additional product combinations. Think of product details, related products and full outfits. The most important innovations within the Bershka Experience are the usage of new technologies which result in shopping convenience, the fitting room being displayed for social interaction and the customers being supplied right from the stock room.
#2 Crisp – The Netherlands | NICHEMARKET, TRANSPARANCY, ON-DEMAND, SUSTAINABLE
Crisp is a Dutch supermarket who is the first app-only fresh supermarket in The Netherlands. Crisp wants to focus on fresh products of high quality and offers the customers a convenient online platform to buy artisan goods. The supermarket works with more than 200 small and local suppliers such as farmers, bakeries, butchers and fishmongers. The offering consists fresh prepared and homemade sausage rolls, for instance. Customers who order before 10 p.m. receive their order at home between 6-10 p.m. the next day for a €2.95 fee. Crisp is such an innovative concept because of its focus on an entire niche market instead of aiming on the mass. Besides that, the supermarket is being completely transparent about their suppliers and food sources and values this relationship. At last, Crisp uses a new business model that relies on the quality and freshness of its products. To ensure these benefits, Crisp collects products from local suppliers and delivers directly to the customer, which also eliminates the risk of stock loss.
#3 Carvana – U.S.A. | OMNI CHANNEL, FRICTIONLESS, VENDING MACHINE
E-commerce retailer Carvana, which is located in the United States, is making some disruptive changes in the automotive industry. The concept creates a whole new car-buying experience by transferring business processes to an online environment. Customers are able to experience frictionless retail when purchasing a car on the website of Carvana. In this manner, the customers can search with their phones, tablets or computers on the platform and seek, purchase, finance and trade-in their car in a small amount of time. Carvana is using their own technology to do this as seamless as possible. Customers are able to come to a showroom and see selected cars and have some in-person conversations if they prefer. A complete brand experience awaits them in the showroom, including a car vending machine. The online retailer manages to offer next-day delivery. The innovative part about the Carvana concept is their online omni-channel model for car sales which results in a frictionless environment and therefore changes car sales. The entire sales process in the automotive industry is now online available for their customers, for both purchasing and selling cars.