Breaking Brands - Sustainable Practices
17 Jun 2020
In this monthly update we would like to inspire you by sharing some innovative concepts which are adapting to the retailtrends: Omni Integration, Extreme Convenience, Extreme Experience and Sustainable Practices. This month, the trend Sustainable Practices will have our attention with trends from Beliani, Maria Granel and Lush. Which breaking brands will inspire you?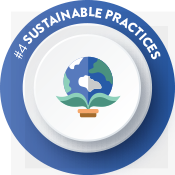 Sustainable practices: Conscious consumption, purpose, responsibility, pop-up, activism
Consumers are more conscious now than ever about their impact on the environment, the food they put into their body, and how products are produced. Implementing sustainable practices is all about demonstrating social responsibility and highlighting an ethical, honest, and responsible business. Consumers are increasingly looking to align with brands and retailers that share their values. Retailers connect on a deeper level with consumers to help them feel like they are contributing to a greater purpose then shopping the brand or retailer.
#1 Beliani – Switzerland | Access over ownership, sustainable, seamless
The Swiss online retailer Beliani is active in sixteen countries and rents out its entire range of around 3,000 pieces of furniture, from sofas and beds to whirlpools. By renting furniture, the company adopts the increasingly popular subscription trend, offering goods which, in the past, were owned. This idea also aligns with the trend of awareness of sustainability, because it prolongs the lifespan of the products. Instead of discarding them, the renter returns products to the company, which can restore and re-rent them. The rental period lasts for 24 months, similarly to how a cellphone contract works. After this period, people can choose to keep the furniture and extend the subscription with a 50% discount (for two years), exchange the furniture for something new (subscription will be extended) or return the furniture, which will be disassembled and picked up at customers' homes for free. In this way, buying furniture becomes more accessible and more affordable, partly because one does not possess the furniture for a long period.
#2 Maria Granel – Portugal |Environment protection, consciousness, zero-waste
Maria Granel has opened in 2013 with the goal of taking a stand against food waste and waste production. Maria Granel is the first European zero-waste store, was a world pioneer in fully disposing of plastic containers and selling exclusively in bulk. This store exclusively uses the Bring Your Own Container (BYOC) concept. The consumer brings his own containers from home or borrows one in the store. The store offers recycled paper bags and glass bottles in different sizes. This conscious effort makes a considerable impact on reducing CO2 emissions and the amount of waste going to landfills and incinerators. By encouraging consumers to buy only the amount needed, you also reduce food waste. Moreover, Maria Granel's products are 100% organic, certified, and free of genetically modified organisms. In 2019, Eunice Maia, who developed Maria Granel, won the Terre de Femmes Prize, an initiative promoted by the Yves Rocher Foundation to recognize women with projects related to environmental protection.
#3 Lush – United Kingdom | Pop-up promotion, activism, sharing values
Lush created a new pop-up shop in London in collaboration with Change Please, a social enterprise staffed by the homeless. This pop-up shop began with the goal of increasing education around the impact of singleuse plastic and how consumers can adapt their consumption habits to reduce the use of plastic coffee cups. Lush offers free coffee and tea to all who bring their own coffee cup, or who purchase compostable and biodegradable ones. The shop is designed with the aim of informing customers how to effectively #carrythecup. By covering the shop walls with educational facts about waste reduction, Lush communicates the importance and ease with which customers can make an impact, with just a small change. Brands can take a stand and use their platform to promote various social issues, while still maintaining a successful business. The emphasis is on how humanizing your brand can be a successful method to build customer relationships.