Map of the New Retail World
21 Dec 2020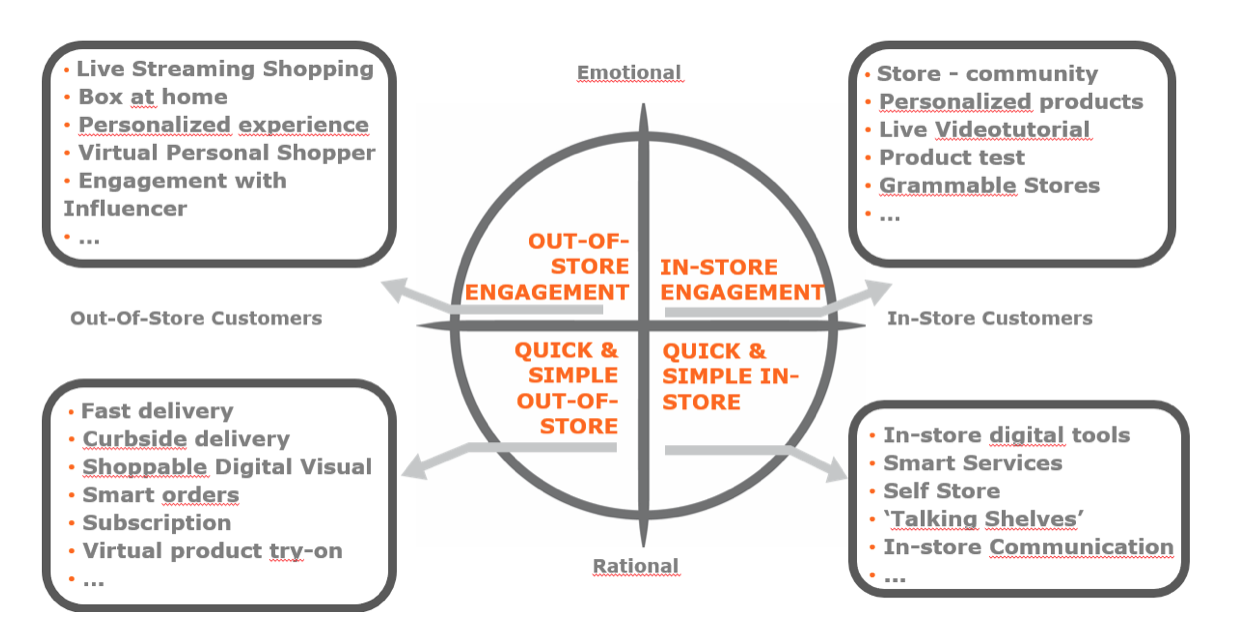 We are pleased to share with you a recent effort we have made in trying to map the New Retail World, creating a map with the different customer expectations.
On the North-South axis we have placed the two different moods, 'emotional' and 'rational', which depend on different people but increasingly on different purchasing situations, because the same person can be more rational or more emotional depending on the purchase situation and on the type of purchase.
On the East-West axis we have placed two situations which refer no longer to the classic physical-digital duality but to 'out-of store' and 'in-store' customers, which currently seems for us more relevant to talk about.
Quick & Simple In-Store: customers are in-store in a rational mood. In this case customers' expectations concern a simple, fast and fluid purchase process (for example in-store digital tools, 'talking shelves', in-store communication, etc.). An example is the extension of the Zara app with the 'In-Store mode' functionality, concerning the use of the app while the customer is in-store and offering different services such us the geolocalisation of the products in-store, the fitting room booking, click & collect in 30 minutes, etc. 



Quick & Simple Out-Of-Store: customers are out-of-store in a rational mood. In this case customer's expectations concern the speed of delivery, the virtual try-on, a shoppable digital visual, etc… Gucci, for example, partnered with Snapchat and, thanks to the Lens function, customers can virtually see how a pair of Gucci shoes would fit within their outfit. 


Out-Of-Store Engagement. customers are out-of-store in an emotional mood. They search for engagement and to satisfy their expectation a Retailer can offer an engagement with influencer, a live streaming shopping, a virtual personal shopper, etc. For example, Motivi in Italy launched the live streaming shopping service, creating events on dedicated days and times.


In-Store Engagement: customers are in-store in an emotional mood. The engagement in-store was typically created through the test of products, the multi-sensory experience, the 'grammable' stores, the opportunity to book a personal shopper in-store, etc. All these iniziatives have been obviously penalized by Covid. Nevertheless, even in this time some good things have been done. Lush, for example, no longer able to offer testers in the store, put samples and disposable soap at customers' disposal, in order to re-create a sort of sensorial experience in the store.
Customers, we know that, are increasingly multichannel and we are experiencing a constant hybridization for the different situations that can be positioned between one quadrant and another. Typically, Retailers have always been stronger in the 'In-Store Engagement' and in the 'Quick & Simple Out-Of-Store' ones.
We think there is a great opportunity to expand and focus on the other two quadrants!