OMNIEXPERIENCE: New trend sets the stage for a complete customer experience
03 Jan 2019
Retail is currently undergoing the biggest transformation ever with a big shift in consumer behavior and consumer values driven by technology and new and innovative players in the field that disrupts and drives the consumer's expectations to retailers and brands. Younger consumers who have been brought up in the time of the digital transformation are now leading the way for new consumer behavior and a new set of values. The publication Global Retail Trends & Innovations 2019 provides insights into the most innovative concepts appearing on the international retail stage while it serves as your guide to the newest trends that are most likely to dominate the retail industry in 2019: Omniexperience, Smart Shopping, Engagement and Activism. In this blogpost, the spotlight is on Omniexperience.
EVERYWHERE COMMERCE – DIGITAL & PHYSICAL FUSION – GENERATION Y Z
The rapid change in retail is being driven by innovative digital technologies placing connected consumers in the driver's seat. Consumers can shop anywhere, anytime, any way they want whether it be in physical stores, online, on mobile, via voice activation or click & collect.
The physical and digital universes have meshed, forcing retailers to deliver a multi-faceted shopping experience in an experiential space that is seamlessly integrated. Customers no longer distinguish between digital and physical – so why do you?
Creating an omniexperience is defined by creating a universal experience across online and physical channels bringing a new level of convenience to the customer. Click & collect is the classic example of an omniexperience where customers can order online and pick up in-store at convenient locations within a few hours, sometimes even less. It also means being able to order online and return or exchange products in-store, being able to choose items online that you want to try in a physical store, or order and pay for meals on the go, to be ready when customers arrive in-store. It also means being able to interact digitally in-store: e.g. augmented reality assistants that lead you to the product, ordering out-of-stock items for home delivery, seeing customer reviews in-store, etc.
Case: Ikea
After two very successful pop-up shops and an equally successful temporary store focused on bedrooms, Ikea opened a permanent urban concept in Madrid's city center on June 10th, 2018. The store is one out of six international pilots of the "store of the future". Here, the furniture giant will test new concepts of stores designed to be in city-center locations, and the specific store in Madrid is dedicated entirely to the living room. It is 2,000 sqm on three floors, shows 1,000 physical products and sells the full range onsite via online tools.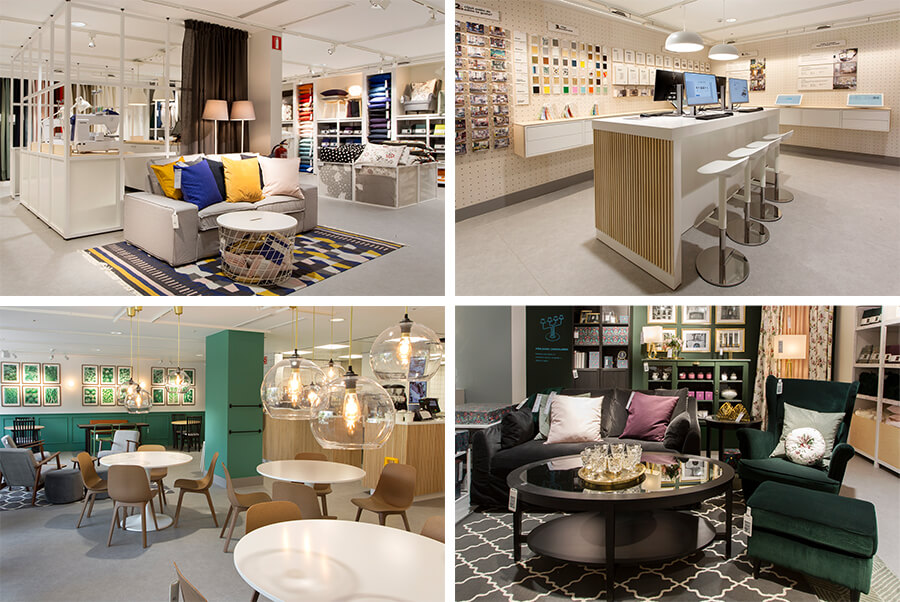 photos IKEA
On the ground floor, the product display is a tribute to Madrid, with four living rooms inspired by charismatic neighborhoods around the city. There is an area dedicated to novelties, which opened with the worldwide launch of a collection that celebrates Ikea's 75th anniversary. It was exclusively available at this new concept for a short time. Another area displays Ikea's most successful pieces of furniture for the living room and how to customize them. On the lower floor, the main area is occupied by "5th floor neighbors," a series of four living rooms storytelling about their inhabitants, their lifestyles and how they designed their perfect living room. There is also a "Salon Lab", which means "Living Room Lab", and here customers are guided by expert advisors to design their dream living room in five steps. On the top floor, there is a market-style area to buy smaller products, for example candles, flowers, frames, jars, etc. The stores further features a textiles area, where fabrics can be made to measure or customized for customers' living room. Furthermore, there are areas dedicated to host workshops together with a café and a Swedish food shop.
With the new store, Ikea moves away from their traditional DIY-philosophy in order to adapt the store to fit the so-called omni-consumer with a concept that encourages them to explore physically and leaves it up to the retailer to get the products to the costumer's home. The regular retail experience is replaced with a unique experience filled with inspiration that engages the customer both physically and emotionally.
For more best practice-cases, download Global Retail Trends & Innovations here.