Phygital in Retail
20 Feb 2020
Retail used to be pretty simple. You had a consumer who went to the store, he made a purchase and that was it. The global consumer is hyper-connected and leads a digitally-driven lifestyle. He buys when he wants, where he wants and how he wants. And that makes that customer journey more complicated than ever.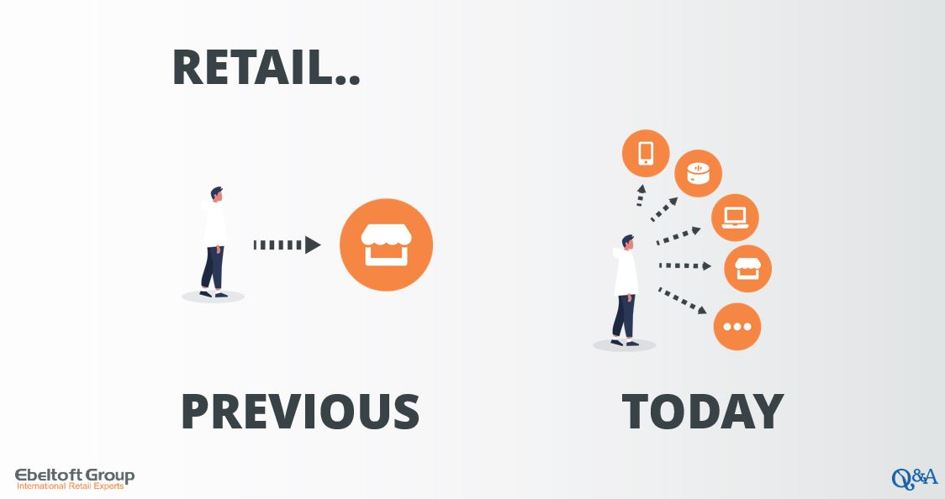 Research shows that digital touchpoints are a part of ninety percent of customer journeys1. Despite this, 59 percent of Dutch consumers prefer the physical store2. In addition, nineteen percent has no specific preference. Despite the fact that consumers massively use digital touchpoints, they generally still prefer to buy physically. Therefore, we have to look for a model where digital and physical become one. The combination of ''physical'' and ''digital'' leads to phygital. It's about building a retail model that takes full benefit of the advantages of both worlds. Not a traditional physical model with a bit of retail, but a hybrid model.
Looking at retail, we can identify four main trends driving consumer behaviour at a global level. Which phygital solutions respond to these four main trends and what is the attitude and behavior of consumers towards these solutions? We analyzed this in collaboration with the Ebeltoft Group in fourteen countries3. A total of 13,000 consumers were surveyed. Below, I briefly share some results.
#1 Omniexperience: buying anywhere, digital and physical fusion, it's about the total experience
The most classic example is especially loved by millenials: Click & Collect. This allows customers to order online and pick up in-store at convenient locations within a few ours or less. Omniexperience also means order and pay for meals on the go. But it's also about being able to interact digitally in-store to eliminate customer pain points: e.g. augmented reality assistants that lead you to the product, ordering out-of-stock items for home delivery, seeing customer reviews in-store, etc.
#2 Smart Shopping: easy, fast and convenient experiences
63 percent of consumers are indicating that it is important that stores offer time-saving shopping experiences. Among millennials, this is 72 percent. Providing a quick and easy experience can be done through click & collect, navigate through the store by using an app and using smartphones to scan products, get information and pay. An example of a time-saving shopping experience is offering self-service checkouts. Below you can find out whether consumers are interested in this.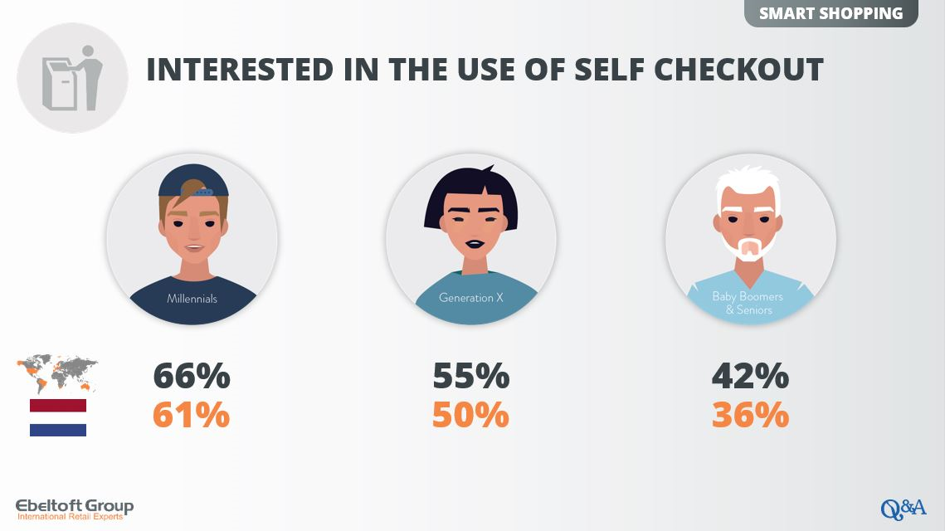 Often Smart Shopping means not having to go to a store at all. The number of digital buyers will only increase in the future. New innovations are making it increasingly more convenient and timesaving to buy digitally. These new devices and automation services make it possible to shop without hassle and maybe without even noticing that you are shopping at all. Examples are voice-controlled devices or smart refrigerators. In general, we notice that men are more interested in this. This may be because they are more interested in gadgets and devices or are less interested in shopping and are looking for solutions.
#3 Engagement: meaningful relationships and engaging experiences
It's not always about offering time-saving solutions, but also about an enriching experience. Consumers are social beings and often looking for shareable moments, so it is important to create personal experiences. Retailers can stimulate higher engagement and loyalty by not only deploying staff, but also offering data driven experiences that focus on the individual shopper. For example, employees can be equipped with a tablet on which they can obtain information about the specific customer's purchase history and preferences, tailoring the individual customer experience through data. On the other hand, personalized experiences are also about personalizing products. This can involve large adjustments or small adjustments e.g. selecting colors or creating design. Retailers and brands can also create a unique shopping experience by adding a social dimension to the store.
So it's not just about interacting with employees and products, but also with other customers, family and friends. We have seen how supermarkets open in-store restaurants, fashion stores offer hairdressing services, or sports brands open experiential stores where customers can play soccer, basketball or even meet with a running club. The overall point is, that the store is designed with social experiences as the focal point rather than the direct sale.
#4 Activism: transparent and meaningful experiences
In recent years, we have seen an incredible surge in consumer consciousness. Conscious and sustainable consumption has become a mainstream topic pervading all consumers' attitudes and behaviours. This consumption awareness is further spurred by the digital revolution, as consumers have access to more information on production methods, sustainability issues, ethics, and are able to spread news and opinions through social media. Running your retail business responsibly and with transparency is no longer a choice, but a requirement. Consumers not only expect access to all information about the company, production methods, etc., but also that the information matches the responsible mindset they have, and that they are equipped with the tools to make informed purchase decisions. Brands and retailers thus need to find ways in which customers can access information in the purchase situation, when it really counts, and here technology again functions as an enabler: QR codes or NFC technology can enable customers to scan products with their smartphone and find the information that is relevant for them in the shopping moment. 7FRESH in China is a retailer that adapts well to this. They provide QR codes for their products, which allows you to easily gain insight into product information.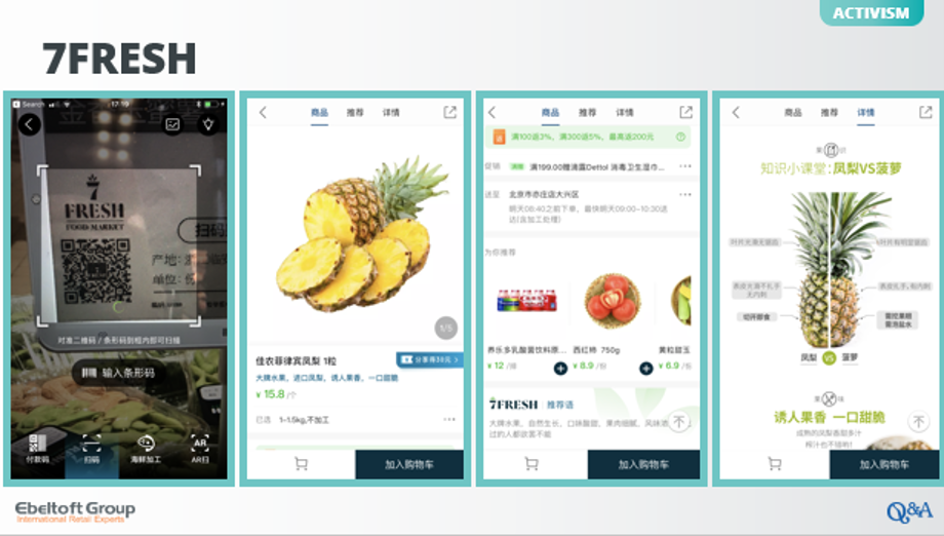 The important thing is that it's not about being good at digital, but that you get better because of digital.
This was a brief summary of the four trends at macro level and some phygital solutions that respond to them. Curious about the full report in which we go deeper into the macro trends, phygital solutions and the attitude and behavior of Millennials, Generation x and the Baby Boomers towards them? Please send me a message. In April/May we will come with an update of the report to see the developments. Keep a close eye on our channels for this!
1 PwC | 2 Additional Analysis - Retailer of the Year 2019 | 3 Australia, Belgium, Brazil, Denmark, France, Germany, The Netherlands, Norway, Poland, Romania, South-Africa, Spain, UK and US.