SMART SHOPPING: The shopping experience becomes easier, simpler and more efficient
05 Feb 2019
Focusing on emerging trends and the most interesting cases worldwide, the trend publication Global Retail Trends & Innovations 2019 provides strong insights into innovative concepts and pioneering solutions concerning the four international retail trends that will dominate the retail industry in 2019: Omniexperience, Smart Shopping, Engagement and Activism. This blogpost is the second in a series of four posts unveiling the trends further one by one, and in the following, you get an overview of the second trend, Smart Shopping.
RETURN ON TIME – CONVENIENCE – SIMPLICITY – SERVICES @ RETAIL
The modern consumer is more demanding than ever and thrives on time, convenience and value. Consumers are searching for solutions that optimize time, which is where Smart Shopping comes in to make consumers lives easier, simpler and more efficient without compromising the quality of products or the shopping experience. Retailers are increasingly offering several services in one place to reinvent and increase revenues, and at the same time offer time starved consumers the simplicity on demand by giving them the chance to handle several errands in one place.
Smart shopping is often driven by technology and an integrated experience that is simple. The focus is on smart in-store solutions that make buying decisions easy and quick. An optimized store layout, convenient delivery options, subscription-based plans, fast check-out systems and easy store navigation are just a few examples of how the retailers and brands can make shopping smarter for the customers. On-demand is a key component of smart shopping as consumers' expectations have changed based on access to food, tv shows, the list goes on thanks to services like Netflix, Uber and food delivery – "People don't want a drill, they want a hole in the wall."
This often means reacting based on knowing what the customer's expectations will be – deliver what they want without engaging with them first. Artificial intelligence and IoT are increasingly ensuring a personalized shopping experience both in store and online.
Case: E. Leclerc Drive Piéton
E.Leclerc is a French hypermarket grocery chain, and with the new concept E.Leclerc Drive Piéton, the grocer looks to cater to the busy consumers in the big cities. As opposed to hypermarkets, this new concept is located in city centers and is exclusively a click & collect store where customers can pick up their groceries as early as two hours after placing their online order – all day from 10 am to 10 pm.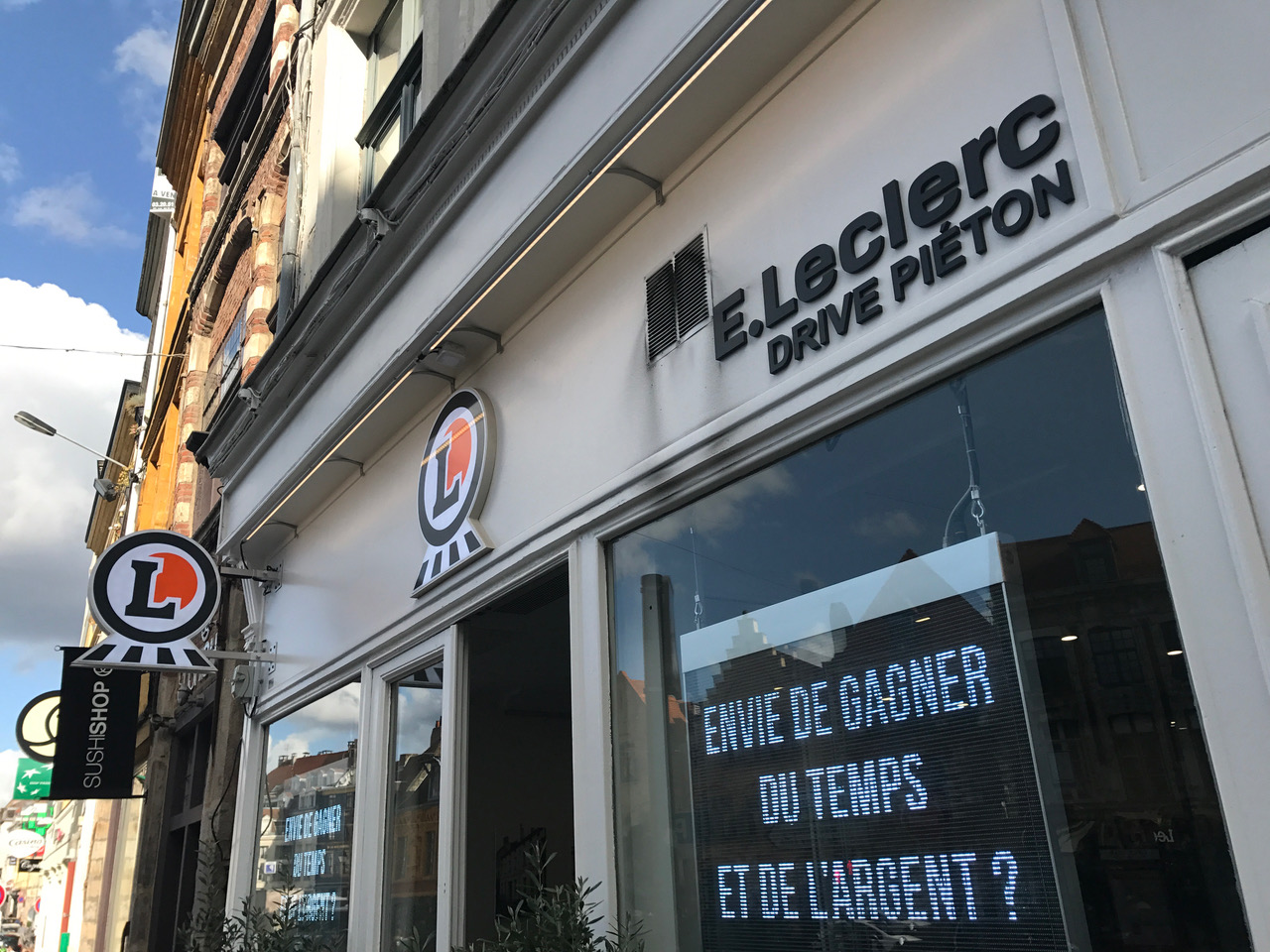 Photo: Ebeltoft Group
The store thus acts as a pick-up place where time-starved consumers can pick up their packed and ready-to-go groceries at a suitable time and at a price that matches the low prices in the hypermarkets, but without having to take the time to make the long trip out of the city center. Further, customers have access to the chain's entire wide range of groceries online – over 12,000 SKUs are available. The typical French supermarket offers approx. 6,000.
The French cities are packed with traditional grocery stores from several players, but with this new concept, E.Leclers addresses the urban consumers in a new, innovative way and with a business model that keep costs down. The click & collect model ensures that E.Leclerc avoids the expensive last-mile delivery cost, which is the most expensive part of the delivery and one of the biggest challenges for online players, and with a only 50 sqm format, rent is kept to a minimum while still ensuring good visibility in city centers.
For more best practice-cases, download Global Retail Trends & Innovations here.