South African Retail Post-Lockdown
07 May 2020
The threat of Covid-19 has forced governments worldwide, including South Africa, to enforce a nationwide lock-down which resulted in the closure of most retailers that provide non-essential goods and services while essential services such as food and groceries remained open.
South Africa is unique to some countries considering the extreme levels of poverty, informal housing and rural population, thus a strong difference is seen in terms of retail and consumer behaviour between the main two population segments: informal, lower income and formalised, middle to higher income markets. Low income communities tend to live in areas with high residential densities, which poses unique challenges for social distancing which is vital to the containment of the epidemic. As observed media, some informal settlements obey the rules, while in others life goes on as always. In contrast, one can assume that in middle to higher income suburbs, social distancing is more manageable as people can shop online.
When trying to understand the likely South African Retail markets post-lockdown, it is important to view the short-term effects and try to assimilate the longer-term impacts.
Short-Term: The effect of Lockdown on Retail:
The footcount/number of visits to retailing facilities is a good measure of retail support in South Africa, considering a somewhat under-developed delivery market, especially in sectors trading during lockdown. Since instating Lockdown (on March 27,2020), retail and recreation facilities in South Africa have seen a drop of 71% in footfall compared to baseline, according to the Google Mobility Changes index. This is on par with a 78% and 70% drop in visits to transit stations and traditional workplaces. With drop in footfall comes a drop in sales and trading.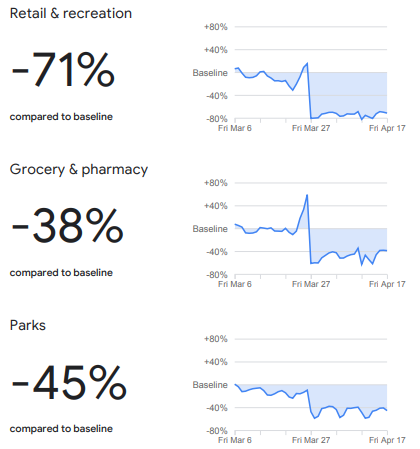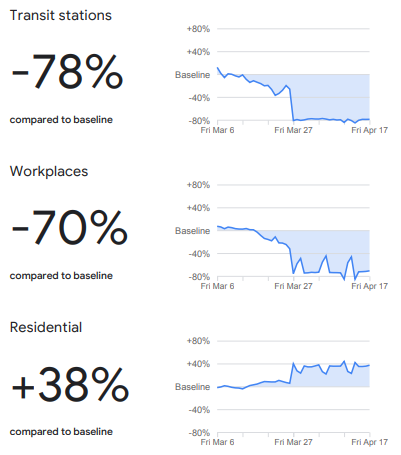 Source: Google Mobility Changes Report, South Africa
Mobility trends for places like grocery markets, food warehouses, farmers markets, specialty food shops, drug stores, and pharmacies have shown the lowest drop in visits to grocery and pharmacy facilities mainly due to the fact that these facilities are allowed to trade essential items during lockdown. Additionally, recorded increases in movement within residential areas tend to indicate that residents started to shop more locally. This tends to support the usage of alternative shopping methods like deliveries and online shopping.
Medium- to Long-Term: Current and Expected Changes in Consumer Behaviour
Kantar research identified the following trends in retailing in South Africa (extract of their their SA CVOID-19 Barometer Study):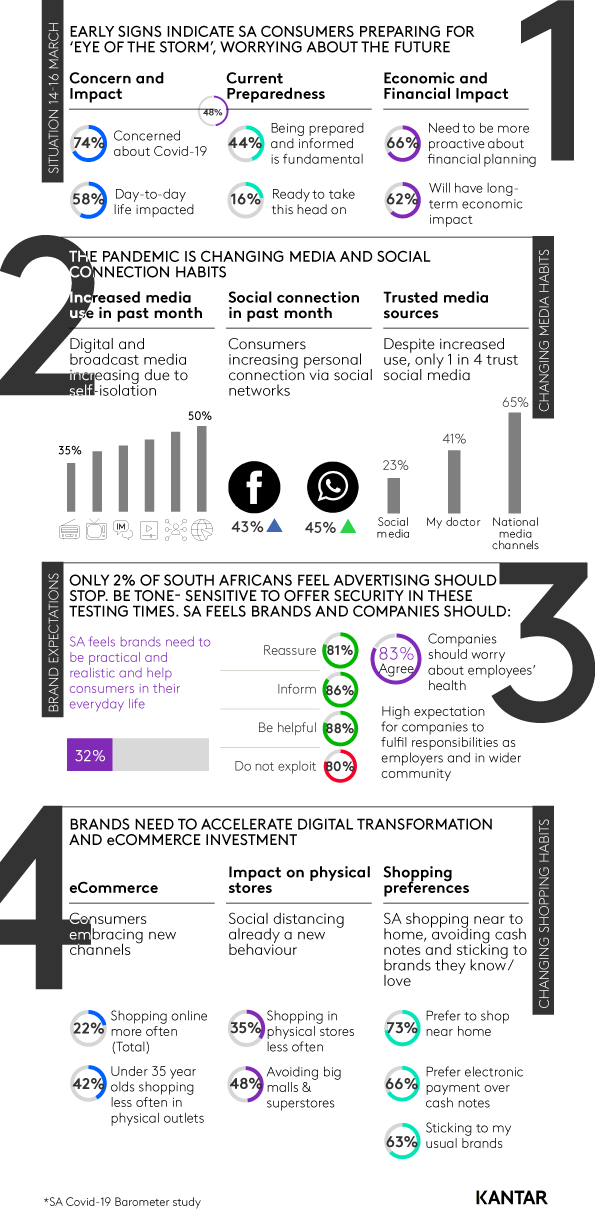 Source: Kantar SA COVID-19 Barometer Study
In the medium-term (directly after lockdown), consumers may be reluctant to visit stores such as sit-down restaurants when social distancing is in place. In other cases, there might be a pent-up demand for goods that was restricted under social distancing such as fast-food and home retail. Overall, the medium-term could be a difficult time for retail as it is uncertain how many businesses may have decided to close-down, and consumer spending will be affected by unemployment.
In the long-term, the economy could pick-up again, consumers may have more confidence to spend and unique business models may have emerged from the lock-down experience. We anticipate the main changes to be:
A shift towards home-based office working, which would have an impact on the future office market, and consequently shopping that occurs in these employment nodes.
New digital customer experiences result in changing consumer behaviour, especially considering the new lock-down restrictions. Retailers need to note that local consumers are embracing new channels, both in shopping online more often and cultivating social distancing as a new behaviour.
Entertainment and the sit-down restaurant industry may be most vulnerable as these industries relies on people coming together, making social distancing difficult. People may rather opt for an online streaming service subscription such as Netflix/ Showmax.
Authenticity: customers will support brands that supported good causes during the epidemic.
The dualistic market in South Africa still poses different adaptions for retail in various areas:
1) The middle to high income groups have internet availability, which makes social distancing much easier as they can tap into online retail services such as home delivery of essential goods, unique services such as online educational and entertainment options. Most importantly, the internet also allows white-collar workers to continue their business operations at home, which can become the new norm even after lock-down. The impact on retail is that retailers who rely heavily on an office market may lose support. An example could be an Eatery that relies on the daily inflow of office workers or destination shopping centres within office nodes.
2) The lower income groups have fewer choices available as they do not have internet easily available, or hardware such as laptops and personal computers, to join the online market. If companies move towards working at home, it could result in large unemployment amongst blue-collar workers such as security and cleaners who service offices.
What does this mean for Future Retail in South Africa?
The long-term effects of lock-down and the need for sustained social distancing in future might mean that retail will become more localized with a focus on convenience. Online distribution channels might expand and become even more popular especially for higher order goods or for a larger retail variety.
The result is that businesses who expect to rely on traditional benchmarking to predict store turnover or who rely on old business models could fail in a post Covid-19 era.
The following aspects / scenarios will play a role in retail considering the dual markets in South Africa:
Home-based offices become the new norm – stronger support for retail facilities in residential areas.
Social media and online retail are well supported, resulting in changing consumer behaviour.
People avoid crowded places, with a focus on local convenience.
A drive-thru retail offer may overshadow traditional sit-down in-line stores.
Different channels of distribution may be required, for instance e-commerce plays a role in higher income communities but a limited role in low income areas.
E-Hailing services (like Uber, Bolt, etc.) becomes a popular alternative to taxis to ensure social distancing. Similarly, third party aggregators like Uber Eats and Mr D will play a more important role in fast-food and grocery deliveries.
Consumers may have a more health conscious approach to their lifestyle and spending as a result of the Covid-19 virus.
Rural retail and shopping in traditional informal areas are considered to remain less affected than more formalised areas, however these areas can be hardest hit by the virus from a social perspective.
In this regard, it will be important to use the services of a research company such as Fernridge Solutions to provide the latest and valuable insights in terms of retail expansion and optimization during and after Covid-19. For any further queries please contact them: admin@fernridge.co.za