The accelerating head start: China
18 Dec 2019
Every day we are confronted with new examples of new technologies from China as proof how fast this country is boosting innovation. Nevertheless you only will really understand the impact of these developments until you have experienced it by yourself. We normally will approach China as a country, but with 1.4 billion people, 14 regions with over 40 million people and 14 official spoken languages this is not a country it's more like a continent.
We visited recently China with a group of 20 retail executives from the Netherlands. We visited three cities, thirteen companies in five days. Summarizing this trip in one word: mind-blowing.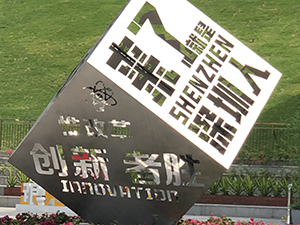 The three cities are incomparable with each other. Shenzhen is a city just across the border of Hong Kong on mainland China. Only 40 years ago this fishermen village became one of the first special economic zones. In this period the population of this small village went up to over 11 million people and is one of the fastest growing cities in the world. The region is today known as the Silicon Valley of china. Money attracts more money, talent attracts more talent and success will be multiplied.
Nanjing is a typical second tier city in China. This is the way the Chinese refer to their "smaller" cities. This former capital of China has only 8.3 million inhabitants, as comparison this is 4 times the size of Paris, why do they call this a small city?
Shanghai with more than 24 million people one of the biggest cities on the globe. As example every day more than 100 million packages are delivered in this city. 4 parcels per in habitant every day! How? Good question.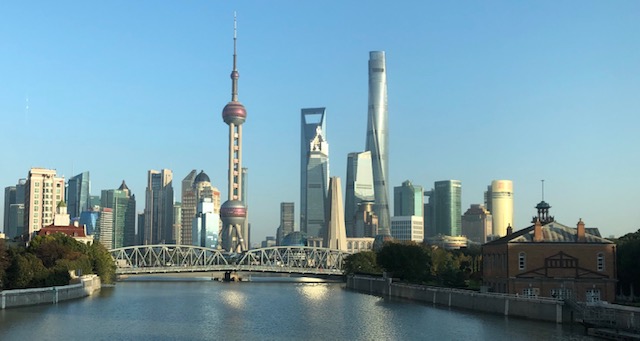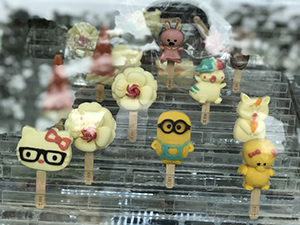 It felt like sitting in a rollercoaster. We experience so many new things in such a short period of time and its hard to do without dropping your own conventions. This is China and you better get used to it. Don't try to kill every concept or idea by using your own conventions, they have and other set of rules, try to be open minded. If you want to learn from them, try to be open, try to understand and take your lessons for your home market. Of course that differs from China, but nevertheless we can learn, adapt and adjust. Our first thoughts were everything is already written, we have seen it all and still our minds started tumbling while visiting China. As long as you haven't experienced it you simply can't understand it. Nevertheless we will give it a shot to explain it to you.
13 companies in 5 days Tencent, Tuya, Librairie Avant-Garde, Suning, Fresh Hippo (Alibaba), ALDI, NIO House, Intersport, SuitSupply, Starbucks, BYTON, NIKE en JD.Com. And some of us even visited even more companies in these 5 days.
Ecosystem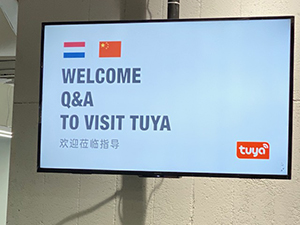 The growth of companies goes at a speed we hardly can imagine. A company like Tuya probably you have never heard of it. it exists for 5 years has a company value of 2 billion US dollar and in the past year the number of employees grew from 1.000 to 1.500. this is a small company with only one solution they create chips for the connected home, this is the IoT company which created an ecosystem for the connected home.
Companies like Tencent, Suning, Alibaba en JD, became in the past 20 to 30 years conglomerates and are all building their own ecosystems. The way they present their companies makes you feel being on the set of a Bond movie or the minority report. We got guided tours in experience centres that provided us insights in the history, the present and the future of the companies. Tencent and Suning have 50% of their staff dedicated to R&D. Both the companies are active in digital, payments, social, logistics, healthcare, education, gaming, real estate, stores and leisure. Virtually they are active in any industry.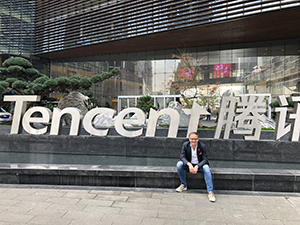 Tencent you probably may know from WeChat, the Chinese Wharsapp, not even ten years old but in all veins of the Chinese society and economy, people use it for messaging, payments, gaming, search, navigation, and commerce via the miniprograms. Suning a company you never heard of grew in less than 30 years from 1 store to 10.000 stores. It developed its own payment services even by usage of facial recognition. They created their own logistical solutions with drones, robots and mechanisation support for logistics staff members in their warehouses. Suning has a stunning 360 million members within its loyalty system, 25% of the total Chinese population. You will be touched by the power, the missions, ambitions and execution of these companies. In 2018 80% of all ecom sales in China was done by the ecosystems of two companies Tencent and Alibaba.
Mobile only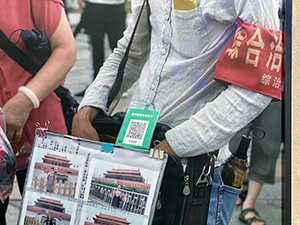 We grew up with money or your life, but in China it's your mobile or your life. You virtually don't have a life without a phone. Your mobile is your navigator for your life. Chinese use it 24/7. They wake up with their mobile and go to bed with it. They order their coffee with it when arriving in the office. They pay their ice cream with a QR code while walking on the street of Shanghai. They give a gift to a bagger on the square via his Alipay QR code. The traditional POS checkout as we know it in stores is dead. Your own mobile became the checkout with the QR code as interface. Everywhere is commerce, every corner of the street can be transformed to a store as long as there is merchandise, a QR code and you are in business.
This is not mobile first, this is mobile only, they leapfrogged the laptop or PC. As we have generations that don't know what a dvd is, in China generations will grow up that don't know what a PC is. You need a cab? Mobile!, You need an umbrella? Mobile!, You want to play a game? Mobile! Drink needed? Mobile! In need of a bicycle? Mobile! QR codes will fulfil every need for you On every corner of the street you will find the remedy for your worst nightmare, the dying battery of your phone. Powerbank rental services can be found everywhere. Paying for this service is done via a QR code and your phone via WeChat pay or Alipay and off you go. When you phone is charged again you can drop your powerbank in one of the docking stations somewhere else in the city.
I'm sure we only have seen half of it. At Suning we even got so far that there is no need for your phone anymore if you want to shop, just use your face. Enter the convenience Biu store, scan your face, take your products and just walk out.
Just commerce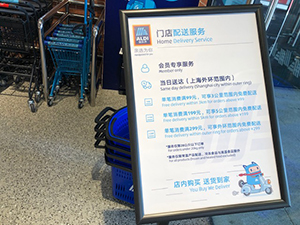 In the west we still can debate for years on online, offline, multi, omni whatever channel. In China it's all commerce. 60% of the sales at Fresh Hippo stores are transacted online, yes this is a physical supermarket. Fortunately in the West many still believe that an online grocery business will never make it. Aldi, yes the German discounter, promises in Shanghai within 3 kilometres a 30 minute time window for free delivery of groceries as long as your minimum order size is 100 RMB (12,50 euro). They just had to adapt to the market and match the offer of their competitors, no compromise. We really have to start rethinking, just keep doing what we always did with a strong believe that the world never ever will change that fast in combination with our extreme store density could become our Waterloo. The Chinese really start think from the customers perspective and their needs. What if your customers don't feel that shopping for groceries is the coolest thing to do. You really have to change and at a fast pace.
Brandshipstore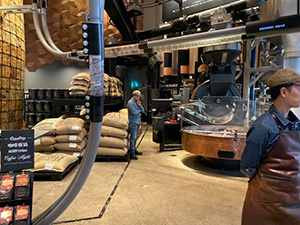 People do have spare time, but it became a precious good. Time is money and everybody has the feeling that we have less and less time for ourselves, if this is really the case it has become even more precious. Retailers have to move from market-share to share of life. If you want to win the attention of your customer and want to win a share of their life you have to become mindful. You want to create meaningful memories, in the end a memory is an experience that lasts. You have to create a physical environment that going beyond the traditional transactional store, this space has to become an attraction. The store as a Brand statement, without any concession.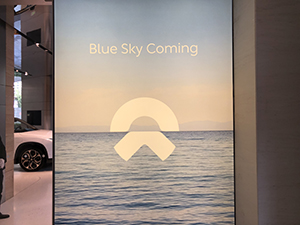 At NIO it's not about electrical vehicles, but about a vision on life and mobility. If you buy one of their cars you get free access to their club house, the NIO house. It includes a coffee bar, a lounge, a kindergarten, an event space and a store. Car owners get perks with the purchase of the car, they get perks for referrals to family and friends, for attending events and for organizing events. Perks can be redeemed for a coffee in the bar and lounge or purchase of a gift in the online NIO mall. Brands are making bold statements, giving direction, engaging customers and employees. Also others create new places to worship the brand may it be Starbucks that created with the roastery reserve a real coffee and tea temple, or Nike or NIO. These physical locations are places to be, locations where people gather that share the same passion. Nike create with its House of Innovation a store beyond the store . Every two months a new product is highlighted, they remodel the full store and everywhere you will get information of the products at interactive stations. Including the centre court where the products can be tested via gamification. Customizing products became a basic ingredient for these kind of stores and is offered in the Nike for you workshop. In the heart of the Starbucks reserve you will find the roastery, it's a real pleasure for coffee lovers. It snot only a leisure and pleasure dome it's also a transactional store. Half of the sales is form merchandise and the average ticket is for times higher than you would expect from Starbucks. Each of these stores or venues are a pleasure domes for their visitors.
The collective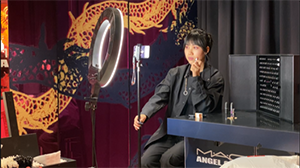 Being part of a winning group, jointly create achievements, the follow the leader principle which is naturally part of the countries DNA for decades. And this is not mend in a dogmatic way or with disrespect, not at all. KOL's are showing where to go, Key opinion leaders, are giving guidance to their audience what and where to choose form. Everywhere we saw young high educated people fluent in English with the right mix with respect to equality. This is not a topic in China equality is the normal. All people with high energy, all hungry for growth and money. By absence of religion probably the youngsters feel like it has to happen here and now. The co-workers at Starbucks, Nike and NIO, but also the employees in the offices at Tencent and Suning all were proud to be part of the company. You could feel the positive vibe everywhere, and this is transferred to their customers. These youngsters really work hard, but they all want to achieve something. They work till late at night, but they now together they will get further.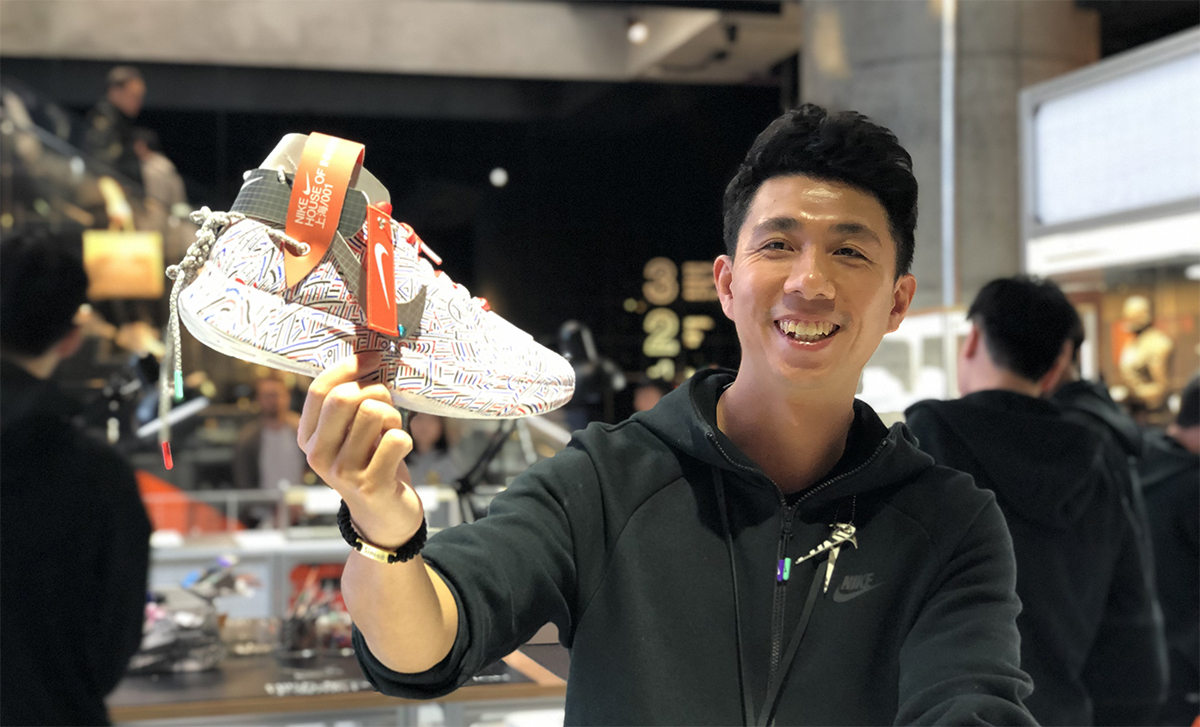 Shanghai is as representative for China as New York is for the US, London for the UK and Amsterdam for The Netherlands. There will be parts in China which are less developed and where the economic growth will be way more moderate. Cities will be smaller but nevertheless have 6 million inhabitants. The infrastructure on the mainland will be diverse and in rural areas totally different from the big cities. At the same time 70% of all payments in china are done via mobile. For China everything is related to the big growth "engines" for prosperity. The big driver is becoming the economic superpower of the world. Today China is already the biggest ecommerce market in the world, they surpassed the US last year. We are confident that it can't take long before they will become the number 1 economy of the world. We sometimes get indication that their economic growth is slowing down, but still their growth rates are numbers we in the West we only can admire.
Frank Quix: I visited Chine 4 times in the past 12 months. Every time I'm getting home I'm overwhelmed by the impressions and experiences. I always discover new technologies, new concepts, new buildings, new stores. Maybe because I missed them during the last visit or they simply didn't exist at the time of my last visit. My lesson for China be open minded, be curious and be a student. Learn instead of judging and you only will understand it by experiencing it.
Ernst Jan Smids: Digesting the trip questioning myself: "What should I do with this experience?" In the West we are more into finetuning and optimising instead of leapfrogging and making fundamental choices. We are not exploring new growth areas just incrementally trying to improve our performance. "By painting the wall in a new colour, your sofa does not become more comfortable" once a friend told me. If you are still in the optimising mode, you should visit China with Q&A : mind-blowing!