The New Rules of Brand Trust – How Costco Wins with Today's Consumer
28 Apr 2021
The Retail Brand Trust (RBT) score is the only metric that studies which retail brands consumers truly trust – and cannot live without. Read on to learn why building trust with the consumer is radically important, how trust has changed in the last decade, and how to succeed in becoming your consumers' preferred retailer by emulating today's most trusted retail brands (wholesale club retailer and this year's trust winner Costco, pictured above)
Ten Years Measuring Consumer Trust
At Ebeltoft Group, we have been studying consumer trust for more than a decade through proprietary consumer research across our international member base. In 2011, we published our inaugural global trust study The Trust Factor, which identified how retailers can create or destroy the trust of their consumers. At the time, we surveyed more than 19,000 global respondents on their perceptions toward 183 brands and retailers across 12 countries. This seminal study demonstrated that one of the most important success factors for any retailer is fostering long-term consumer trust in their brand and products, as trust has a significant positive influence on consumer's choice priority, their frequency of visits, their recommendation or advocacy of a retail brand, and their long-term anticipated patronage.
Why Building Trust Matters More than Ever
We are living through a global revolution in consumer trust, as this past year posed significant challenges within retail brands' relationships with consumers. Consumers continue to re-examine their priorities, challenge existing norms, and call on retailers and brands to take purpose-led action that aligns with their values and supports community and citizenship in powerful ways. Consumers have also become more attuned to the ethical treatment of retail's frontline workers due to increasing income inequality, health disparities, and the realities of pandemic living. There's no question that amidst all the changes this year – between a global pandemic, recessionary pressures, political upheaval, environmental disaster, and social unrest – there has been a resounding shift in consumer demand for positive change, greater equity, stability, and
. In the current environment, pandemic weary consumers are demanding that retailers show up in the name of positive change with honesty and transparency – keeping their promises to consumers and caring for their employees alike.
Introducing McMillanDoolittle's Retail Brand Trust Score
Our most recent study conducted through Ebeltoft USA founding member, McMillanDoolittle, looks back on the last 10 years to illustrate some of the subtle and seismic shifts in consumer attitudes and expectations toward retailers as well as strategies to succeed in winning consumer trust. This proprietary study Consumer Trust in the Time of COVID represents an update to The Trust Factor work in 2011 by examining how leading food, drug, club, and mass retail brands in the USA are faring on dimensions of consumer trust. The Retail Brand Trust (RBT) score is a first-of-its-kind metric introduced in the study that speaks directly to consumers to discover which brands they count on most in their daily lives. McMillanDoolittle created the RBT to help retail businesses measure the trust consumers place in their brand and provide them with a framework to improve it.
The RBT score is an analysis of explicit trust in a retail brand, captured by the extent of agreement or disagreement with the statement "I feel I can trust this brand completely." Implicit dimensions of brand trust relate to the RBT score and serve levers to influence overall trust for individual retailers. These dimensions include:
Based on your knowledge and experiences, please rate the extent to which you agree or disagree with the following statements about [selected retailer] using the scale provided [1 to 10].
Explicit
I feel that I can trust this brand completely
Implicit
They are honest and always keep their promises
They care a lot about their customers / customers are very important to them
Their prices are fair, you get value for money
It is fun or even a joyful experience to shop with them
I would miss this retailer/shop if it were to disappear
They stepped up to support the local community during the pandemic
They work hard to treat their employees well
Based on responses to this explicit trust statement, we group respondents into 3 buckets:


Individual Retail Brand Trust scores are calculated for each by subtracting the percentage of Brands Cynics from the percentage of Brand Believers. Neutral respondents are omitted from the calculations. The RBT methodology has a theoretical maximum score of 100 (100% of respondents are Believers) and a theoretical minimum score of -100 (100% of the respondents are Cynics). The higher the score, the more explicit trust consumers place in an individual retail brand.
Brand Trust has Eroded Overall
We calculated RBT scores for retailers included in both the 2011 and 2020 studies conducted by Ebeltoft Global and Ebeltoft USA. All retailers received lower absolute scores, and implicit trust dimensions also declined for almost every retailer surveyed. Any number of factors could contribute to this meaningful decline in the perception of brand trust during the last 10 years. Notably, the downward shift in consumer perceptions toward all brands studied is observed amidst of period of disruption and an increasingly connected world with greater access to information and with stronger social media tools to amplify a demand for transparency. On average, the share of Brand Believers has declined by 16% while the share of Brand Cynics has increased by 13% for these brands. An important outlier is Aldi: although RBT declined slightly (-1.6 points), the company's rank rose from 8th place to 3rd among all brands studied over the ten-year period among US respondents.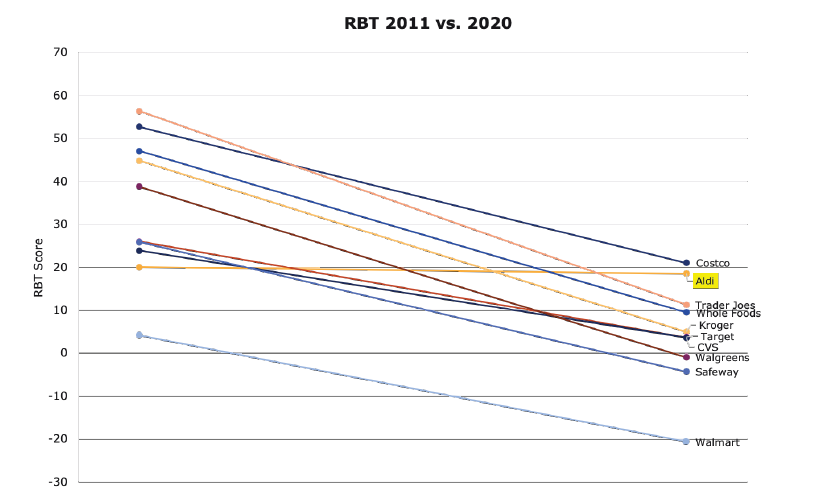 These results indicate that retailer performance has not kept pace with consumer expectations for brand transparency, employee treatment standards, or the fundamental customer experience. It's incumbent upon retailers and brands to go further to increase two-way communication and create a true culture of honesty, credibility, and genuine care for employees and customers.
Winning Consumers Hearts, Trust, and Share of Wallet
While our latest research suggests leading retail brands have fallen short of expectations when it comes to earning consumer trust, today's Trust Leaders demonstrate key strategies and tactics employed that are most succeeding in building trust in a post-COVID world.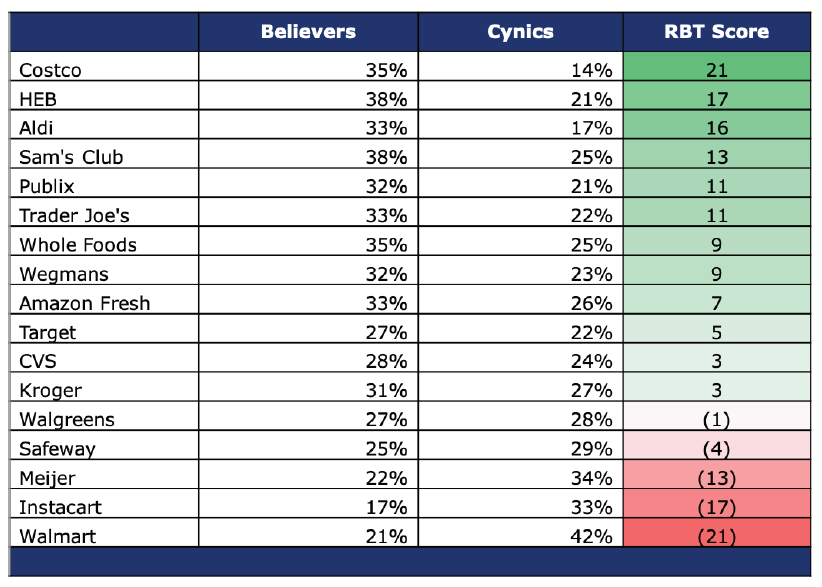 This year's Retail Brand Trust leaders for the USA are Costco, HEB and Aldi. Consumers believe these retailers care about their customers, employees, and local communities, and are businesses they would miss were they to disappear. The stand-out retailer from this year's study is Costco, with the highest average score across all dimensions probed. Costco's leadership on trust is consistent with their leadership on initiatives and policies that elevate the experience for their customers and employees alike. Shoppers love Costco for its friendly return policy, low-priced food court and the treasure-hunt-like experience. Moreover, in recent years, the retailer has stepped up its efforts related to sustainability and community-minded initiatives. Bottom-performers for Retail Brand Trust include Walmart, Instacart, and Meijer. The perception that these companies treat their employees poorly hurts their customer experience performance and perceived trustworthiness.
While the messaging and strategic priorities of our top performers can offer a blueprint to emulate, retailers must adjust their priorities and actions to earn consumers' trust in 2021 and beyond. Today's consumers perceive winning retailers as honest in their messaging, transparent in their processes, fair in their prices, and caring toward their employees and customers – who they put at the center of their business. To see the complete findings and our perspective on how to today's winners are successfully building relationships with consumers by not only delivering value but appealing to their hearts, download our free whitepaper, Consumer Trust in the Time of COVID.